About Management
Responsive On-Site Management
Paul Cook and Maine Real Estate Management LLC serve as the property management company for One Cumberland Place. Paul's long experience in owning and managing real estate in and around Bangor, his attentiveness to serving tenant needs and his down to earth approach interacting with people were all critical factors in selecting MREM as our property manager.
MREM handles all important aspects of One Cumberland Place from maintenance, to managing tenant service issues, collecting rent and financial record keeping and more. MREM is hands on. They inspect the property every week and look for any potential problems or concerns. Most importantly, they are available 24/7 whether it be calling the main office, mobile or text lines. MREM operates under a strong business code based on ethics, values and best practices for the industry. Our business integrity allows our clients and tenants to be confident they are working with a company they can trust.
In 2019, Maine Real Estate Management LLC was awarded both the Bangor Region YMCA Doc Mann Children's Champion of the Year Award and the Maine Homeless Veteran Action Committee Critical Partner Award.
24/7 Maintenance
MREM provides 24/7 maintenance. General maintenance requests are usually solved with our large in-house staff. When needed, we are connected to all subcontractors required to assist with any problems at the property. We strive to find the best service at the best price.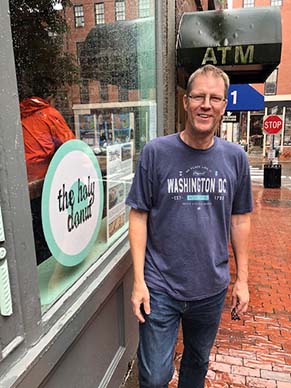 Paul Cook entered the real estate management business in 1990, working in various partnerships before founding Maine Real Estate Management LLC in 2004 in Bangor. Paul grew up in the coastal Washington County community of Lubec and settled in the Bangor area after his graduation from the University of Maine.
Paul is heavily invested in the region, having spent his entire life in Eastern Maine. He spent several years as a youth basketball coach in Hampden and Bangor, taking teams across America to participate against the top teams in the country. He is passionate about fishing the streams and rivers of Eastern Maine, spending most of his free time exploring the woods or hanging out with his grandchildren. He also is an obsessive antique sports card enthusiast.
Paul presently serves on the Board of Directors of The Maine Basketball Hall of Fame and is on the Board of Corporators for both Machias Savings Bank and Eastern Maine Healthcare. He is a past board member of the Hammond Street Senior Center.