About Ownership
One Cumberland Place, LLC
John Thibodeau and Chip Hutchins formed One Cumberland Place, LLC to purchase the building from Dick Cattelle.  John and Chip have worked together on other real estate projects.  John, through his firm Windsor Associates, works with clients in preserving and enhancing shareholder value of their businesses and real estate holdings.  Chip has owned, operated and invested in many Bangor area businesses throughout the years including radio stations,  manufacturing companies, the Bangor Lumberjacks and Automatic Vending & Games.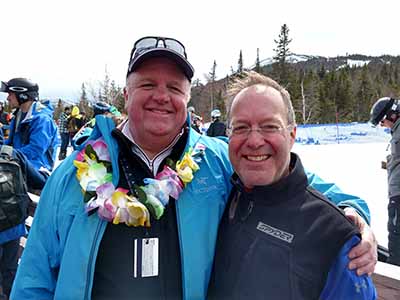 The partners were born and raised in Bangor and represent the third generation of their family's relationship with one another.  John's grandfather, John Atwood, owned and operated the Bangor Motor Garage for many years on what is now the site of Bar Harbor Bank & Trust's offices on Main Street; Chip's grandfather, Curtis Hutchins, established Dead River Oil Company in 1933.
Both John & Chip are avid skiers and lifelong Sugarloafers, as you can see from the photo; and while Chip is the faster of the two; John is the better golfer!  Ask him!  Both partners take pride in and are active within their communities.
John serves on several company board of directors, is a past member and chair of his town's Zoning Board of Appeals, past president of the community's little league, past president & treasurer of Purpoodock Club, current treasurer of the Maine State Golf Association, member of Maine Real Estate Developer's Association(MEREDA) and its Local Issues committee and sits on the Finance Council for St. Bartholomew Church.
Chip has served on numerous boards in Eastern Maine.  Currently, he is trustee of the Mount Desert Island Hospital in Bar Harbor, as well as of Community Health and Counseling in Bangor.  He is a member of the Maine Arts Commission and is the current chair of the Board of Advisors for the Collins Center of the Arts at the University of Maine.